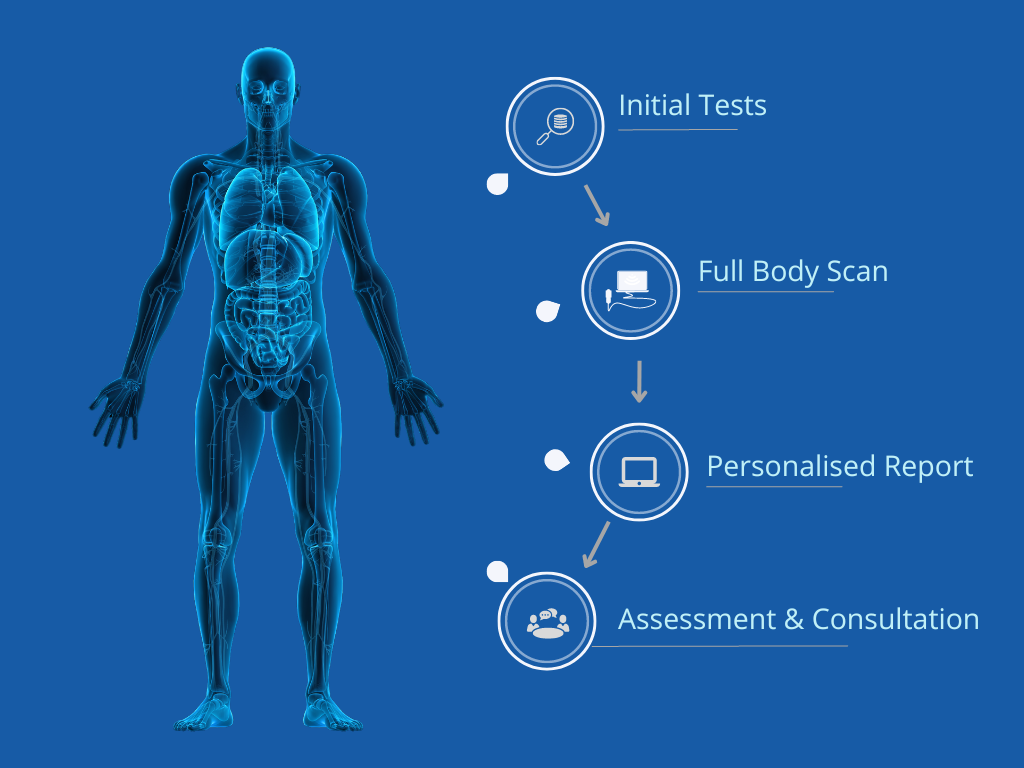 Your Premier Health Check
Premier Health Check's aim is to find the root cause of illness, not just treat symptoms.
BOOK NOW
Your Premier Health Check
Step 1. Initial Tests
When you present at the clinic a trained technician will initially record a brief personal medical history to determine if there are any underlying health issues causing the feeling, such as have you a Pacemaker fitted, a serious Heart Condition, experiencing Epileptic episodes, Obesity, Diabetes (high sugar diet), etc.
The technician, by using the appropriate diagnostic devices, then proceeds to record Blood Pressure, Oxygen Saturation (SpO²), Weight, Body and Visceral Fat, (records BMI - Body Mass Index), Resting Metabolism (RM kcal), Skeletal Muscle Percentage, etc.
Step 2. Body Scan
Once these initial tests are done, a technician will complete a full Body Scan of you using our suite of Renowned Diagnostic Equipment. These devices are non-invasive and use only 6 electrodes that are connected to your feet, hands and head. The devices produce electrography and bioimpedance measurements which indicates the overall health of key organs, joints, muscles, autonomic nervous system, blood circulation, digestion, metabolism, energy reserves, degree of acidification in the body, fitness and muscle analysis.
Conducting these tests can also assist in indicating the most favourable and effective time for you to exercise and provides accurate feedback on the condition and the functionality of your key organs.
In addition, blood checks can also be undertaken in order to determine your cholesterol levels and Glucose levels in your system.
When all these tests are complete the result and data gives the medical team a clear and comprehensive insight into the general well being of the client.
Step 3. Personalised Report
The outputs of the tests are then downloaded from the diagnostic devices used and presented to you in an easily understandable, user friendly, printed report of every organ showing indications of where particular organs may be under stress. A printed copy of this report is given to the client.
Prior to leaving your appointment, we will arrange and book a suitable time for you to have your 30-minute phone consultation with one of our medical team.
Step 4. Assessment and Phone Consultation 
All of the collected information from your appointment and hard data from our devices will be sent by our Technicians to our Medical Team for a full analysis.
Our Medical Team consists of Medical Advisors and Registered Nurses who will complete a full analysis and assessment of your overall health.
After their analysis is complete, a member of our Medical Team will contact you for a pre-booked 30-minute phone consultation to explain the findings and provide recommendations in relation to addressing imbalances that appear from your health assessment.
*In some circumstances, where the information obtained from the diagnostic devices dictates, we would strongly recommend clients to consult with their own family doctor immediately. We are happy to advise that on many occasions, early interventions prompted by the information generated from the diagnostic devices and contained in the client personalised health assessment report has helped a significant number of clients avoid a serious and dangerous deterioration in their health.
Your Premier Health Check
We are here to help you on your journey to reaching your optimum health.
BOOK NOW